Looking for a fast way to get the money you need? We got you! Our low-rate personal loans are an affordable way to get the cash you need now, and make payments over time. Our application process is fast and easy and you may be able to get the money in your account the same day.
Consolidate bills from other lenders
Make home repairs
Get new appliances or furniture
Pay for uncovered medical or dental expenses
Effective Date: May 24, 2019
Product
APR* as low as
Personal Loan
9.49% 1
Share Secured Personal Loan
6.00% 2
* Read Important Disclosure

*

*Minimum and maximum loan amounts or credit limits apply.

1

Your APR will be determined based on our internal credit criteria. Listed APRs assume excellent credit rating, and include a 0.500% discount for repaying by an automated payment method approved by us.

2

APR varies and may be adjusted monthly based on the Prime Rate published in the Wall Street Journal. Minimum APR is 6%.
Share Secured Loans
You could get a great personal loan rate simply by using your credit union savings as collateral. Pledge funds in regular savings, premium money market savings, premium plus money market savings or a savings certificate and pay less interest.
Apply for a Share Secured Loan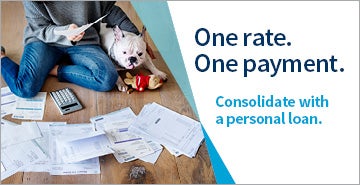 Easy ways to pay
Automatic transfer from your credit union checking account
Transfer by phone through Member Services
Automatic deduction from another financial institution