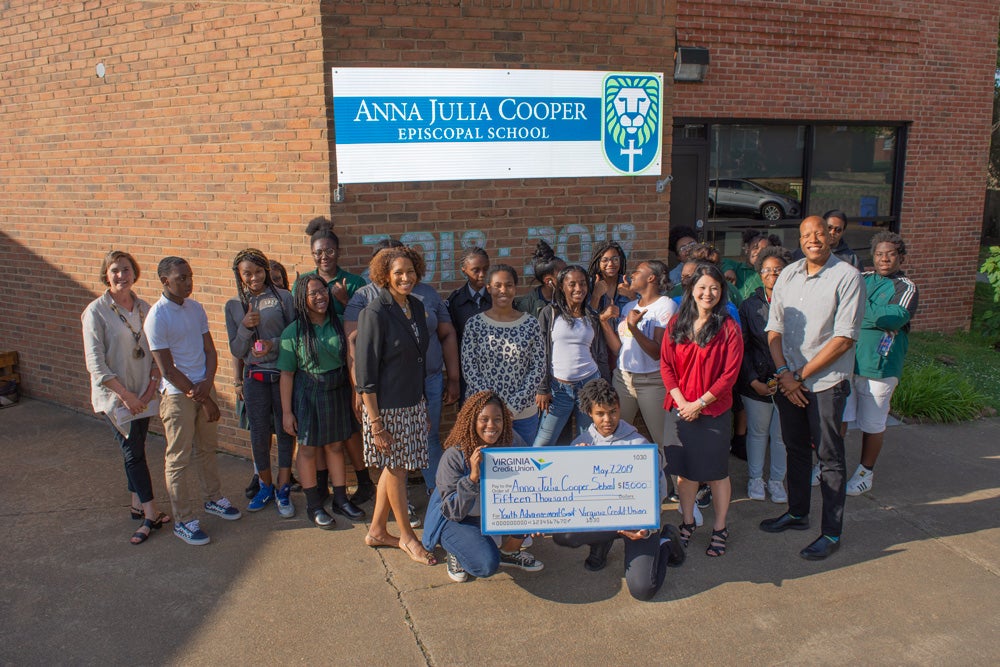 Virginia Credit Union has awarded a $15,000 Youth Advancement Grant to support the Summer Jobs program at Anna Julia Cooper Episcopal School (AJC) in Richmond's East End. This program provides summer job opportunities for high school students, in addition to workplace readiness training and personal finance education.
AJC is an independent middle school which provides full-tuition scholarships to students with limited resources in Church Hill. Through the Summer Jobs program, the School partners with organizations and professionals to offer six-week employment opportunities for AJC graduates.
"Our workplace partners agree to provide meaningful work experience, clear expectations and regular student feedback," said Mary Cay Kollmansperger, AJC's Family Engagement Coordinator. "We train our students ahead of time, pay each student an hourly wage and provide transportation to and from work each day. During each student's employment, we check in regularly with our workplace partners to ask for feedback and offer support to the students."
In 2018, AJC Summer Jobs students worked at The Science Museum of Virginia, the YMCA of Greater Richmond, the Richmond SPCA, in the office of Commonwealth's Attorney Michael Herring, Refuge4Men, The Faison Center and with Henrico County trial attorney Owen Conway.
"Virginia Credit Union created the Youth Advancement Grant program to support organizations that are making a difference in the lives of underserved students," said Cherry Dale, Financial Education Director for Virginia Credit Union. This is the second year that the credit union has offered the grants.
"Young people who gain work experience and earn their own money are ideal partners for the lifelong financial education and guidance that our credit union provides," said Dale. "The grant is designed to invest in organizations' workforce development efforts while supporting youth with financial education to help place them on a path of financial success," said Dale.
---
About Anna Julia Cooper Episcopal School
Anna Julia Cooper Episcopal School (www.ajces.org) is an independent school which provides full tuition scholarships to 4th–8th grade students of limited resources in Church Hill. After graduation, students continue their relationship with AJC through an after school program that provides tutors, mentors and post high school planning and support. By focusing on the whole child, we work to empower our students to change the trajectory of their lives, setting their sights on success in high school, college, and serving their communities.

About Virginia Credit Union
A financial cooperative serving more than 280,000 members, Virginia Credit Union offers a variety of affordable banking services, loans, mortgages, and free financial education resources, with a focus on helping people be more confident with their finances. Virginia Credit Union is an equal housing opportunity lender and is federally insured by NCUA.
Media Contact: Glenn Birch | glenn.birch@vacu.org | (804) 560-5664