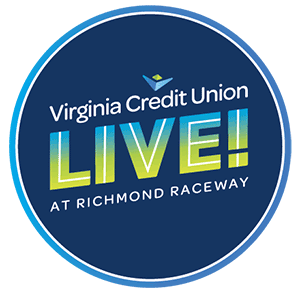 Richmond Raceway and Virginia Credit Union, a financial cooperative serving more than 265,000 members, have agreed to a multi-year naming rights agreement for the region's premier outdoor concert venue, The Classic Amphitheater. The iconic 6,000 seat amphitheater will be renamed Virginia Credit Union LIVE! with a new brand identity.

Virginia Credit Union LIVE! will continue to bring top musical acts and superior concert experiences to music fans in the Richmond region. The venue has hosted top national recording artists such as Aerosmith, Sting, Jimmy Buffett, Dave Matthews Band, Elvis Costello, Hank Williams, Jr., Florida Georgia Line, Little Big Town, The Lumineers, and Rob Zombie. Virginia Credit Union LIVE! will also continue to host the Radio One Stone Soul Music & Food. 

"We are always in search of new opportunities to reach a broad audience," said Todd Feldman, Virginia Credit Union Senior Vice President and Chief Marketing Officer. "Making more people aware of our name creates opportunity for us to help more people with the goal of strengthening their financial confidence through affordable financial services, low fees and financial education workshops and resources. Virginia Credit Union LIVE! will continue a long tradition at Richmond Raceway of bringing incredible live music to the area. We look forward to celebrating the upcoming concert season as the curtain rises on Virginia Credit Union LIVE! this spring."

VACU members will be provided a code for advanced ticket sales of concerts and events at Virginia Credit Union LIVE!. In addition, they will receive free parking (a $10 value) by showing their VACU Mastercard® debit or credit card. 

The first concert announced for the year is GRAMMY® award winning Portugal. The Man on Thursday, Sept. 20. The American rock band recently won the Best Pop Duo/Group Performance category for the song "Feel It Still" at the 60th Annual GRAMMY® Awards. Advance tickets will be available for the public on Feb. 9 at 10 a.m. on vaculive.com, axs.com, or The National Box Office at 708 East Broad Street in Richmond, Va.

"With Virginia Credit Union, we are uniting to build the bright future of the venue for new memories to be made with iconic musicians performing at one of the best outdoor concert experiences in the region," said Richmond Raceway President Dennis Bickmeier. "Virginia Credit Union LIVE! will continue the historic legacy of music and entertainment at Richmond Raceway."

As one of the leading credit unions in the U.S., VACU has grown by putting members' needs first. VACU is in the business of confidence by giving their account holders the knowledge, support and affordable services they need to make their money go further and reach their goals sooner. 

The credit union helps guide members to a greater understanding, so they can take control of their finances and live with confidence. VACU invests in the community by making financial education a priority and providing monetary, in-kind and volunteer support to various organizations.

The new Virginia Credit Union LIVE! brand identity was developed by Richmond-based Elevation. The colors and angled type were inspired by the VACU logo and convey the energy and excitement visitors will experience at the venue's live music events. The word LIVE! is emphasized by a bold gradient to give the words a virtual glowing effect, similar to a neon sign. The white lines within the letters hint at the lines of a racetrack, giving a subtle nod to Richmond Raceway. 

Virginia Credit Union LIVE! has 6,000 covered seats, six permanent private dressing rooms with restrooms and showers attached to the stage as well as two loading docks. There is a separate hospitality building providing a full menu of food and beverage amenities. The backstage area is completely secured with ample room for parking large vehicles and tour buses. 

In 2017, the venue celebrated its 25th anniversary by forging a 10-year booking agreement with AEG Live. The partnership continued the tradition of being the hub for outdoor concerts by bringing some of the best touring artists in the world to the Richmond region.

Stay connected to the new vaculive.com and rebranded social channels on Facebook.

About Richmond Raceway
Richmond Raceway is America's Premier Short Track annually hosting two NASCAR race weekends, featuring the Monster Energy NASCAR Cup Series and NASCAR Xfinity Series, on a ¾-mile D-shaped oval. Richmond is a regional leader for events including sports, live music and consumer trade shows. The Richmond Raceway Complex's 1,000 plus acre multipurpose facility hosts more than 200 live events annually including concerts with top national recording artists at Virginia Credit Union LIVE!. To learn more, visit richmondraceway.com and richmondracewaycomplex.com.

---
A financial cooperative serving more than 265,000 members, Virginia Credit Union offers a variety of affordable banking services, loans, mortgages, and free financial education resources, with a focus on helping people be more confident with their finances. Virginia Credit Union is an equal housing opportunity lender and is federally insured by NCUA.  
 
Media Contact: Glenn Birch | glenn.birch@vacu.org | (804) 560-5664