VACU cards feature a built-in microchip that improves the global usability and security of the card, in addition to the magnetic stripe.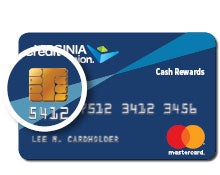 How it works
 At merchants with chip readers
Insert your card into the reader and leave it there for the entire transaction
Follow the on-screen prompts to complete your transaction 
At all other merchants, nothing changes. You can use your card as you normally would.
Present your card to the merchant
Swipe it through a conventional reader
Provide your card details by phone or online
Cardholder Benefits
Greater Worldwide Acceptance
Chip technology is currently used in at least 80 countries around the world and is beginning to be used in the U.S.
Your VACU credit and debit cards can be used anywhere in the world where Mastercard is accepted — over 36 million places in more than 200 countries.
Increased Cardholder Security
When you make purchases at merchants that use chip terminals, the card and terminal work together to add an additional layer of security to the transaction.
Your purchases are more secure because the chip contains encrypted information that makes it extremely difficult for the card be copied or counterfeited.
The number of U.S. merchants using chip technology is still relatively small, but growing. More merchants will go to the new technology in the future.
 For more information on Chip Technology and Security, see Chip Technology FAQs.
Mastercard Zero Liability
As with the previous generation of cards, the chip card is backed by a zero liability policy, which means you won't be held liable if your card or card number is used for unauthorized purchases.
Some conditions and exceptions apply. For full details, visit mastercard.com/zeroliability.