Product
APR* as low as
Essential Mastercard®
11.24%
* Read Important Disclosure

*

*Your APR, including any promotional APR, will be determined based on our internal credit criteria. Periodically we will evaluate your credit information and at such time your margin is subject to increase or decrease, which impacts your APR. Minimum and Maximum credit limits apply. The Variable rate is subject to change quarterly based on the highest Prime Rate published in the Wall Street Journal.
Did you receive a credit card special offer?
Included with all of our credit cards:
$0 annual fee
$0 cash advance fee
$0 balance transfer fee
$0 foreign transaction fee
---
Interested in one of our other credit cards?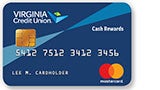 Earn 1% rebate on all your purchases.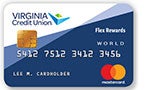 Earn points on all your purchases & choose the rewards you want.
---
 Already have our card?

Whether you're looking to transfer balances to your card, increase your limit or learn more about the features of your VACU Mastercard, our resources can help.