$0 annual fee
$0 cash advance fee
$0 balance transfer fee
$0 foreign transaction fee
---
Interested in one of our other credit cards?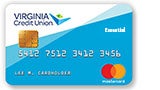 Low everyday purchase rate as low as 10.99% APR.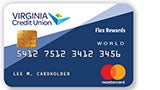 Earn points on all your purchases & choose the rewards you want.
---
Already have our card?

Whether you're looking to transfer balances to your card, increase your limit or learn more about the features of your VACU Mastercard, our resources can help.
† Rebate Rewards. Standard 1% reward on all new net purchases (qualifying purchases less credits, returns, and adjustments) charged to the account each billing cycle. Earn additional bonus rewards on the first $3,000 of net purchases in each of these three categories annually when processed by an eligible participating merchant: (a) grocery and (b) restaurant merchants - 1% bonus for a 2% total rebate; and (c) gas merchants - 2% bonus for a 3% total rebate. For each category, any net purchase in excess of $3,000 will earn the standard 1% rebate. Rewards may be redeemed through Online Banking, the VACU Mobile App or by contacting Member Services. Minimum redemption is $5.00.