$0 annual fee
$0 cash advance fee
$0 balance transfer fee
$0 foreign transaction fee
---
Interested in one of our other credit cards?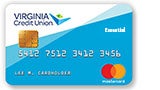 Low everyday purchase rate as low as 11.24% APR.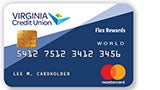 Earn points on all your purchases & choose the rewards you want.
---
Already have our card?

Whether you're looking to transfer balances to your card, increase your limit or learn more about the features of your VACU Mastercard, our resources can help.
*Conditions of Offer: Not all members qualify for this offer. Which promotional APRs for Purchases and Balance Transfers that a qualified member receives is based upon such member's standard APRs for Purchases and Balance Transfers. Purchases made and balances transferred within 60 days of card opening retain a promotional APR for 12 months from card opening date. After that, the APR changes to the Purchase APR and Balance Transfer APR in effect which is currently 13.24% to 14.24% Variable APR for Cash Rewards Mastercard as of 4/1/19 and subject to change. We will begin charging interest on balance transfers on the transaction date. If payment is ever 90 days or more past due; the promotional APR is forfeited and reverts back to the Purchase and Balance Transfer APR then in effect and applies to the entire outstanding promotional balance. VACU is not responsible for any charge owed to any creditor because a payment was not applied by a specific date. VACU also reserves the right to decline any balance transfer request and may decline any that exceed the available credit limit. View our Disclosures for Special Offers or Card Agreement & Disclosure Statement for more information.
†Rebate Rewards. Standard 1% reward on all new net purchases (qualifying purchases less credits, returns, and adjustments) charged to the account each billing cycle. Earn additional bonus rewards on the first $3,000 of net purchases in each of these three categories annually when processed by an eligible participating merchant: (a) grocery and (b) restaurant merchants - 1% bonus for a 2% total rebate; and (c) gas merchants - 2% bonus for a 3% total rebate. For each category, any net purchase in excess of $3,000 will earn the standard 1% rebate. Rewards may be redeemed through Online Banking, the VACU Mobile App or by contacting Member Services. Minimum redemption is $5.00.