Goochland Drive-In Owners Living Their Dream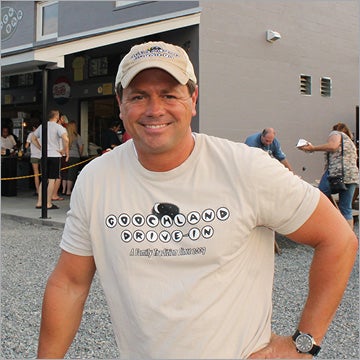 John Heidel, owner of the Goochland Drive-In Theater, is living the dream.
"I have always loved movies, but when we had small kids, and wanted to take a 1½-year-old and a three-year-old to the movies, we knew that going to a conventional theater just wouldn't work."
Realizing their predicament represented both a business opportunity and the fulfilment of a dream, Heidel and his wife, Kristina, acquired a 10-acre site just off Route 64 at Hadensville. The Goochland Drive-In Theater opened in August 2009.
The Heidels found a great location that was affordable, had easy access, and was devoid of urban light pollution. They built the business around films for the whole family, with a snack bar, volleyball and tetherball courts and other activities to enjoy before the movie begins.
On a typical summer weekend, the Goochland Drive-in Theater draws 300 – 350 cars for a double feature of first-run movies. Gates open at 6 p.m. with the first film starting shortly after sundown.
Most patrons watch the movies from their car seats. Others bring lawn chairs and blankets or set up air mattresses and pillows in the bed of pickup trucks. The ticket prices for a double-feature ($8.50 for adults and $4 for children) are a significant bargain when compared to the multiplexes. The whole experience represents an undeniably fun, reasonably priced outing for hundreds who flock to the theater from Richmond or Charlottesville every weekend from March through November.
Keys to success
A key to the operation is the popular snack bar, which features an inexpensive, all-American menu. Patrons line up for the Gooch Dog (an all-beef hot dog smothered in macaroni and cheese) and other popular favorites while enjoying dinner at picnic tables before showtime.
The old drive-in theater squawk box is a thing of the past. Today, drive-in theater patrons enjoy excellent sound from their own car stereo systems. Customers turn their auto ignition to the ACC switch and tune their radio to the proper frequency to hear good quality Hollywood sound. Car battery mishaps are rare, but theater employees are prepared with portable jump starters in the event that a patron's car isn't able to start for the drive back home.
Exceeding expectations
John's background in sales and marketing and Kristina's work as a CPA positioned them well for a successful start-up when they launched in 2009. They had a solid business plan, John explains, but because the concept appeared to some as a throw-back, they had difficulty being taken seriously.
"No bank, no realtor, no vendor would take us seriously," John said. "It was only through polite persistence that we were able to get it going." Initially, a community bank provided financing and support. But a few months ago, they began switching some business accounts over to Virginia Credit Union.
VACU has helped the company with a refinance of commercial mortgages to gain greater flexibility and options for their business.
"As a business owner, I know that a dream only takes you so far. You've got to have hard data. We've always had that. The difference at Virginia Credit Union has been the personal attention. That's really been refreshing. [Senior Business Services Representative] Jenny Boniface has worked with us, listened to us, and gave us regular, pro-active updates throughout the process. That has meant everything to us."
On a recent Saturday night, the lot was full for a showing of "Sully," the story of the US Airways pilot who successfully averted disaster by landing a commercial airliner on the Hudson River in 2009. As the movie played, the stars shown, a cool breeze blew, and the sounds of the summer evening offered a beautiful accompaniment to the film's score.
The very same year the pilot made his miraculous landing, an idea was gaining speed in Goochland County. Now, seven years later, the thriving Goochland Drive-In is taking flight.