The term "title" refers to all the elements that constitute your legal right to own, use, control, and enjoy real estate.
Before you purchased your home, it may have gone through several ownership changes and the land on which it stands went through many more. A weak link at any point in that chain could cause trouble.
Simply put, title insurance is protection from loss arising from problems connected to the title to your property.
Unfortunately, a defect in your title can have devastating effects if you are not properly insured. You may not be able to take out a home equity loan or you may be denied a building permit for an addition. You might even incur the costs to correct the violation.
Is purchasing title insurance required?
Title insurance is broken into two parts:
A lender's policy is mandatory and protects your lender if someone challenges your title to your property
An owner's policy is optional and protects the borrower against challenges to their title.
Most lending institutions will not loan you money on a home or other property unless a mortgagee title policy is purchased. Title insurance will repay the balance of your mortgage if a claim against the property voids your title ownership to the property.
What period does title insurance cover?
Title insurance generally only protects against losses arising from events that occurred prior to the date of the policy. Coverage ends on the day the policy is issued and extends backward in time for an indefinite period.
This is in marked contrast to property insurance, which protects against losses resulting from events that occur after the policy is issued, for a specified period into the future.
How long does title insurance stay in effect?
Lender's policies remain in effect until the loan is repaid. Most lenders require the purchase of a new Lender's title policy if you refinance your home because the existing policy expires when the existing mortgage loan is paid off. You are entitled to a premium discount on a new Lender's policy for the same property if you refinance within the first seven years.
An owner's policy remains in effect as long as you or your heirs have an interest in the property.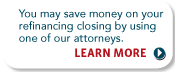 Disclaimer
Title Insurance is offered through Virginia Statewide Title Services, LLC, an affiliate of Virginia Credit Union, Inc. (VACU) and Bon Air Title, and is underwritten by unaffiliated insurance companies. VACU may receive a financial or other benefit because VACU, through Virginia Credit Union Financial Services, LLC has an ownership interest in Virginia Statewide Title Services, LLC.
Any title insurance required as a condition for settlement of your loan or purchase, sale or refinance of the subject property is not required to be purchased from Virginia Statewide Title Services, LLC, and can be purchased from an agent or insurance company of the member's choice. For VA residents only.
Business conducted with Virginia Statewide Title Services, LLC, is separate and distinct from any business with VACU. Virginia Credit Union, Inc. (VACU) is not responsible for products and services purchased through Virginia Statewide Title Services, LLC.