A bank routing number is a 9-digit code on checks that identifies which financial institution it is drawn upon. This code is also used to process direct deposits and other electronic transfers through the Automated Clearing House (ACH).
Virginia Credit Union's Bank Routing Number: 2 5 1 0 8 2 6 1 5
Your Account # : _  _  _  _  _  _  _  _  _  _
(This should be a 10-digit number. See instructions below.)
To authorize a third party to deposit or withdraw funds to and from checking, use the account number from the bottom center of your credit union personal checks, with a minor adjustment shown below.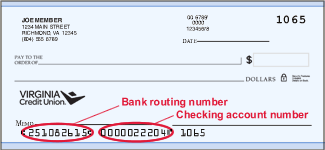 If you have a 12-digit account number at the bottom center of your personal checks, remove the first two zeros. For example, if 12-digit number 000000022204 appears on the check, the correct 10-digit number to list is 0000022204.
To authorize a third party to deposit funds to savings, please contact Member Services for the correct savings account format.
Tip

VACU recommends that you monitor your account activity regularly for accuracy.