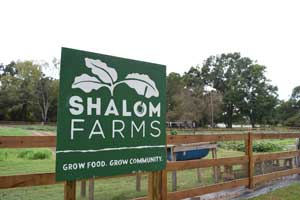 Virginia Credit Union is inviting the community to join its employees and members in a community service project by building a greenhouse and participating in other farm projects at Shalom Farms on Nov. 3.

The event will be held from 9 a.m. – 12 noon on Saturday, Nov. 3 at 1313 Westwood Avenue, Richmond, VA 23227.

"This project is a huge leap forward for this farm. In a single day we are going to build our entire greenhouse, install washing/packing stations and other infrastructure upgrades, and prepare the farm for the 2019 season," said Dominic Barrett, executive director.

Shalom Farms works with communities to ensure access to healthy food and the support to live healthy lives. Shalom Farms produced more than 500,000 servings of fresh fruits and vegetables in 2017 with the help of 17,000 hours of effort with thousands of community volunteers.
"We work with thousands of individuals and families each year who experience barriers to accessing and using healthy food," he said.

Virginia Credit Union is reaching out to its members to recruit 100 volunteers for the day. Community volunteers are welcome. Registration is open here.

"Our employees have volunteered at Shalom Farms in the past and we wanted to extend that opportunity to the community," said Glenn Birch, director of public relations for Virginia Credit Union. "Virginia Credit Union is owned by its members. As a cooperative organization, we wanted to create an opportunity for members, employees and the community to volunteer together in a meaningful project."

Volunteers will complete construction of a greenhouse where vegetable seedlings for 2019 can be started during the winter months. In addition, volunteers will harvest produce, weed, mulch, build out smaller infrastructure including washing and packing stations, and complete a variety of farm maintenance projects. There are many ways to help, including projects for adults and children, skilled and unskilled volunteers, and projects that can be done while seated.
About Shalom Farms
Shalom Farms works with community-based partners to get fresh produce to the individuals, families, and programs that need it most. Shalom Farms distributes produce to enhance existing services, deliver to local corner stores, and host weekly farm stands at participating partner sites. Learn more about Shalom Farms.
---
A financial cooperative serving more than 270,000 members, Virginia Credit Union offers a variety of affordable banking services, loans, mortgages, and free financial education resources, with a focus on helping people be more confident with their finances. Virginia Credit Union is an equal housing opportunity lender and is federally insured by NCUA. 
Media Contact: Glenn Birch | glenn.birch@vacu.org | (804) 560-5664