We are always looking for people who share our passion for helping members build their finances and confidence. In return, we offer employees a challenging and rewarding work environment. We are committed to maintaining an atmosphere of respect and integrity that promotes teamwork and improvement.
Current Openings
Employment Applications 
Complete an application to be considered for a position with Virginia Credit Union by:
Creating a profile and completing the online application (preferred method).
Applying in person between 9:00 a.m. and 4:00 p.m. at 7500 Boulders View Drive, Richmond, VA
Feel free to include your résumé with your application. Applications are accepted only for current openings.
Benefits package
In addition to a competitive salary, we offer a benefits package* that's among the best in the industry. Join our team and find out what makes Virginia Credit Union a great place to work.
Benefits include
Medical insurance
Dental insurance
Prescription drug benefits
Flexible spending accounts
401(k) plan with employer match
Defined benefit retirement plan
11 paid holidays
Paid vacation
Paid sick leave
Tuition reimbursement for full-time employee
Annual incentive program
Tuition reimbursement for full-time employee
Membership eligibility
Group term life insurance
Accidental death insurance
Voluntary life insurance
Long-term disability
Short-term disability
Employee assistance program
In-house training & development
Contact
Email: jobs@vacu.org
Fax: (804) 323-2068 
Phone: (804) 323-6000 or (800) 285-5051 
7500 Boulders View Drive
Richmond, VA 23225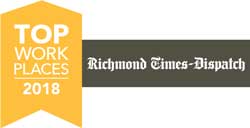 ---
*Virginia Credit Union is constantly striving to improve benefits so they are subject to change. Benefits vary based on full-time or part-time status.
Virginia Credit Union is an Equal Opportunity Employer